Dear Sharon,
As you know, we have never met but I feel as though I have known you for many years. The reason I feel that way is because many years ago I stopped by my local bookstore one evening on my way home from work looking for something new to read. I happened to pick up a copy of a book that seemed interesting to me, although I had never heard of the author. That book was one you had written entitled "Whippoorwill."
I bought the book, took it home and sat down to read a chapter or two before going to bed. I read the first sentence and everything around me disappeared. The town of Lizard Flats sprung to life along with the town's whore, Leticia Murphy. I felt her sense of hopelessness and longing in the first paragraph and I immediately hoped, by the end of the book, she would get her "second chance." The next thing I knew it was morning and I had just turned the last page of the book. I had laughed. I had cried. Needless to say, the book did not disappoint.
I went to work that day with no sleep. I cursed your name and told everyone in the office about this most wonderful book I had just read. Several of the ladies went out on their lunch break and bought their own copies. They, too, came in to work the next day with no sleep.
Since the book had already been out a few years when I first stumbled upon it, I knew there had to be more books out there by this same wonderful author so it was back to the bookstore for me and I was delighted to find there were two more books in the series of the life of Leticia Murphy. I bought them both. I was like a kid in a candy store! Or a heroin addict with his next fix in hand. I couldn't wait to get home to begin the next book, "The Amen Trail." Same scenario happened. Thank goodness it was a weekend. I was again up all night lost in the world of Leticia Murphy, the town's whore, and Eulis Potter, the town's drunk. I laughed. I cried. I sighed. I cringed. These characters were alive on the page. I could hear their words and feel every emotion.
But, it didn't stop there. As soon as I finished that one, there was one more to go and I couldn't stop now so I spent the day reading "The Hen House." It was an emotional roller coaster ride to the very end. I just didn't cry, I bawled. This woman had been through so much, yet she was strong and withstood the storm.
As I have done on so many occasions now, I picked up a book to read last night. It was one I'd read countless times before. Yes, I've been up again all night with my friends, Leticia and Eulis as they start their adventure in a town called Lizard Flats. Today, I'll travel with them on "The Amen Trail" and tonight, once again I'll bawl as "The Hen House" comes to a close.
All I can say is thank you. Thank you from the bottom of my heart. Masterfully written, full of emotions, characters worth rooting for and beautifully written prose. Everything a book should be. I long for the day when I can say my own writing is half as good as Sharon Sala's. That will be an accomplishment I can be proud of.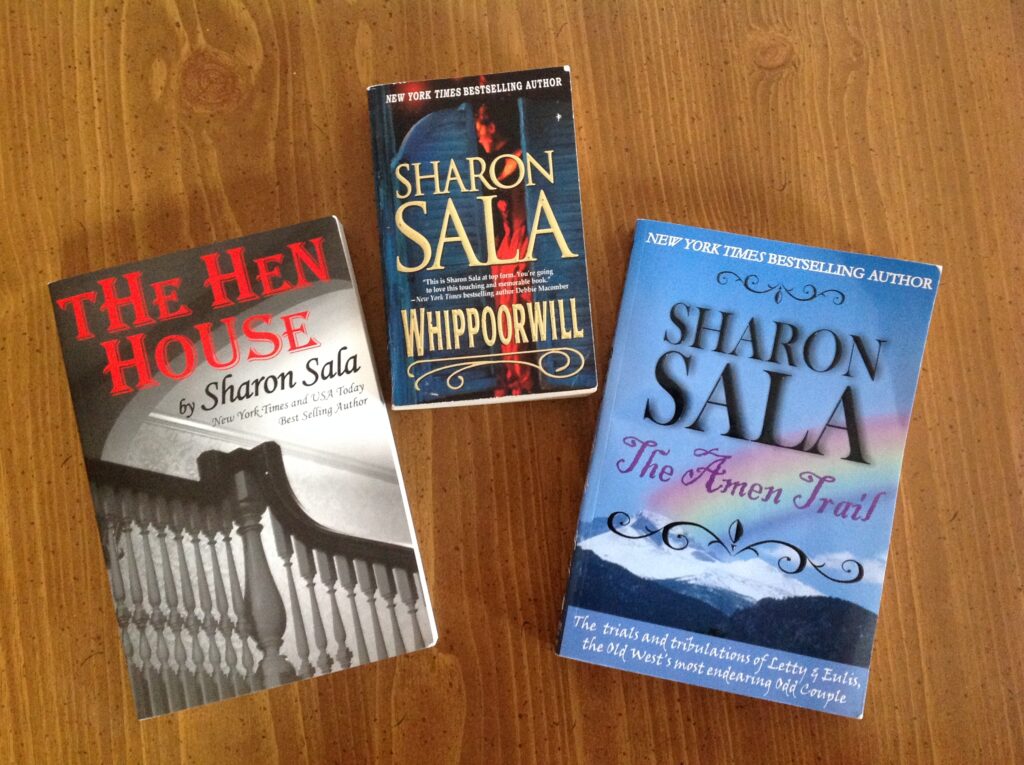 May your imagination never end and your writing never cease. Always, Maggie